We focus our efforts on kids who have been abused, neglected, orphaned, made homeless, victims of domestic violence and sex trafficking, on probation, incarcerated or experiencing other severe challenges.
Create Now also provides comprehensive arts classes to students in Title 1, continuation and charter schools who otherwise receive minimal or zero arts education. In addition, we produce community events, like murals and arts festivals, giving low-income children a safe place to let their talents shine!
Also, through our Cultural Journeys program, we bring thousands of challenged and vulnerable youth to concerts, plays and other cultural events at premiere venues each year.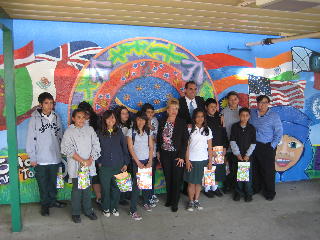 Create Now has a network of 165+ agencies, like shelters, foster group homes, mental health clinics, schools, and detention facilities in Southern California that we partner with to bring our arts programs to thousands of at-risk and high-risk youth.
We recruit and train our volunteers to mentor kids close to their own neighborhoods by teaching small workshops. Create Now provides the supplies, equipment and ongoing support for all of our programs, which culminate with parties that recognize each child's achievement. They receive unique certificates and gift bags with lasting souvenirs.
Create Now also sends out regular notices that inform our partner agencies about free resources and opportunities for their clients. This valuable data reaches thousands of Southern California's most disadvantaged youth.