Volunteer
Volunteering is rewarding and helps build healthy, sustainable communities through empowering individuals.
PLEASE NOTE: YOU MAY NOT FULFILL COURT-ORDERED COMMUNITY SERVICE HOURS BY VOLUNTEERING AT CREATE NOW.
Our volunteering opportunities…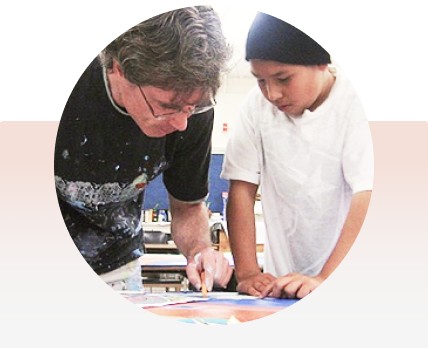 Arts Mentoring
Music, writing, dance or painting helps kids build confidence and develop goals. This is equally rewarding for mentors when you share your expertise.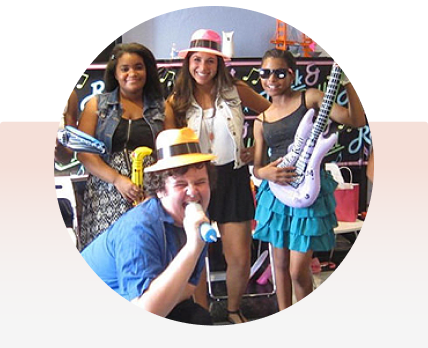 Volunteer at Events
Whether it is planning, fundraising, or participating with the kids, Create Now often needs extra hands for our events.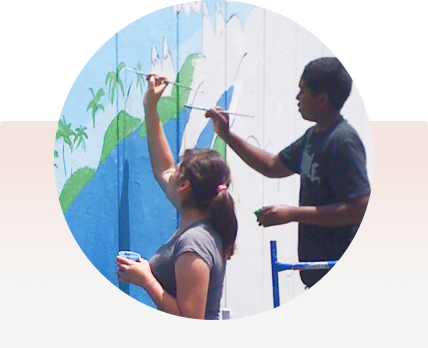 Join Our Team
Help Create Now by serving on one of our committees which include Strategic Planning, Fundraising and Finance, Marketing and Public Relations.
To volunteer, all you need to do is to fill out Create Now's volunteer application.
Or please contact Lola Kate at:
(213) 747-2777 x 3 or
lola@createnow.org
Is there a long-term commitment?
We customize Create Now's programs to have the maximum effect in the shortest period of time since many of the youth we serve are often moved around or released. Therefore, we can usually organize a project based on your timetable, including opportunities to help out through fun one-time events. We've learned that even just one meeting between a volunteer and a group of youth can have a positive effect. Some of the kids may be inspired to change their behavior, or motivated to pursue a particular career. Even though Create Now's focus is on small group mentoring projects, there are times when one-on-one mentoring relationships evolve naturally through Create Now programs.
How much time do you require to be a mentor for a group?
Create Now makes it easy for volunteers to give back based on your schedule. If you want to teach a class one time for an hour, not a problem! What about twice a week for two months. We can make it happen. We organize a party with gift bags for the kids so when your workshop ends, you all have closure. This way, you can complete your project and the youth have a sense of accomplishment. This also allows our mentors flexibility. After the workshop is completed, volunteers might decide to work with the same kids, start a new workshop with a different group of youth, or end it because of personal time constraints, without the children feeling abandoned. Each program is tailored to the volunteer's and children's needs and some projects go on for longer periods of time, including several years. We also arrange "Mini-Tours" where you can mentor a different group of youth each week at a variety of facilities.
What types of skills are you looking for mentors to have?
Experience in any of the arts are welcome, even as a hobbyist. We can also help you teach simple Arts and Crafts workshops that don't require any specific talents. Younger children enjoy storytelling, coloring or to just play games. The greatest aptitudes that mentors need are patience and dependability. For those volunteers without an artistic expertise, you can become a Life Skills Mentor, teaching financial literacy, college opportunities and job interview techniques to a group of youth.
How many children are there per class?
We usually limit the arts workshops to no more than 12, but on average it is 5-10 youth. We also hire professional teaching artists with assistants to lead classes that can include up to 35 students.
Do you need teaching credentials to be a mentor?
No. All Create Now volunteers need is commitment, responsibility and passion to help youth in need. We'll assist you to develop a structured curriculum and provide you with sample lesson plans in writing, music, art, etc. if needed. Create Now will also supply the materials and equipment.
Do you train your mentors?
Yes. All mentors receive an orientation and a comprehensive Mentor Training Manual. We also hold seminar training throughout the year for our volunteers, which includes an opportunity to network with other mentors, share ideas and learn about our other programs. Most of the youth facilities that Create Now serves require that our volunteers also attend their agency orientations or training sessions.
Do mentors get paid?
Since Create Now is a 501 (c)(3) nonprofit, every dollar we spend is crucial. We're hopeful that you will donate your time free of charge. Some of our programs offer a stipend to volunteers to cover expenses. Create Now does hire experienced artists who have taught youth in schools.