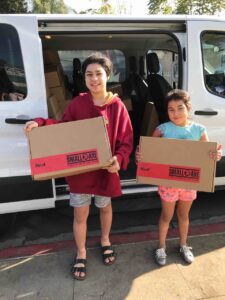 In addition to producing different arts workshops, Create Now distributes free materials that reach the most disadvantaged kids in the region. Many families are suffering from Covid-19, plus lack of employment. Through the support of our partners and donors, we've been able to distribute food, toys, even a baby grand piano!
      Right before Thanksgiving, Create Now was invited by Amazon to share meal kits related to Small Axe, an anthology series directed by Steve McQueen. 100 meals kits with all the ingredients needed to prepare West Indian food (plus a cooking demo) were given to families at Imperial Courts housing project in Watts, and teenagers who face homelessness at Angel's Flight shelter near DTLA.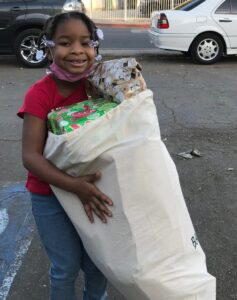 Marginalized children are currently frustrated, and struggling with remote learning due to poor Wi-Fi and other challenges. Their parents can't afford to buy them toys, but thanks to Baby2Baby, 35 kids at Imperial Courts each got two big bags packed with expensive, customized gifts through their "Family2Family" program.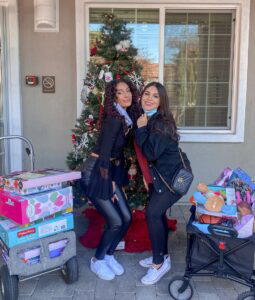 Kyrah Venegas and Alexis Aguilar raised $700 to buy toys and they wanted to give them to at-risk and high-risk children in their neighborhood. Create Now arranged for them to drop off the toys at the San Fernando Valley Rescue Mission for children whose families are facing homelessness.
With the support of the Love Button Global Movement, 50 children and teens living at Penny Lane's facility Moonlight Villas in Pacoima received "Baskets of Gratitude" filled with toys, books and clothes. As you can see in this short video (Penny Lane Love Button) , the children were delighted with their holiday presents.
      Everyone at Create Now was also thrilled when we received an offer from donor Daria Mashouf in Beverly Hills who wanted to contribute a Yamaha baby grand piano. We eagerly accepted his contribution, and shared this fantastic resource with all of our partner agencies through an email blast. There were many requests for this valuable prize. The winner, SoCal Youth & Family Services in Buena Park, was selected on a first-come-first-served basis. This clinic provides mental health assistance to children and teens with social struggles, defiant behavior and poor motivation.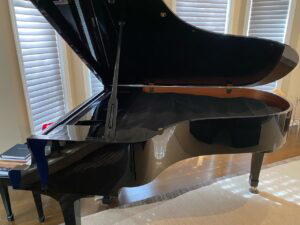 Our goal was to find a volunteer who could provide the youngsters at SoCal Youth & Family Services with a series of basic piano lessons that could be taught remotely. Coincidentally, Create Now received a call from Gabe Aronson, a professional pianist who performs in Broadway musicals. We're organizing a Piano Workshop for many of these kids. The clinic also snagged a big trampoline from a different donor. The youth are having fun while safely getting exercise during Covid-19.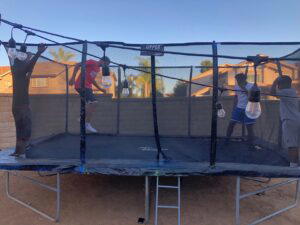 If you have any materials, instruments or equipment that you or your company would like to pass along to those in need, send an email to: info@createnow.org with a description of your donation and your location. We will do our best to find those who will benefit the most from your contribution. Since Create Now is a 501c3 nonprofit organization, you'll receive a tax deduction, and the knowledge that you're making a difference in the community.