My career was in the entertainment industry for many years as a script supervisor. I led an exciting life, traveling all over the world on film productions with A-list talent. In 1991, I worked on two films that changed my life. Menace II Society was about Black Lives Matter. Then, while shooting My Family in East L.A., I met an 8 year-old boy and his 11 year-old brother at 3:00am on a Tuesday night as they hung out with the crew. They didn't know where their mother was and their father "didn't give a bleep."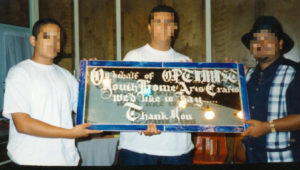 Having lived in Hollywood for many years, I had no idea that just a few miles away, life was very different for many kids on the streets. I did some research and discovered that L.A. has more foster, homeless and incarcerated youth than anywhere in the nation.
I felt compelled to make a difference. I'm a produced screenwriter and that was my main passion. I had an idea for a story about two rival gang members who ended up at the same detention camp. I contacted all the probation centers in LA County and volunteered to teach a screenwriting workshop, but no one ever got back to me.
Then in 1992, the Los Angeles riots happened. I joined a volunteer group and met a wonderful woman named Wanda Patterson who helped me teach my writing classes at Optimist Youth Home, a juvenile detention facility in Highland Park with 100 teenage boys. They were incarcerated for rape, assault, robbery and attempted murder.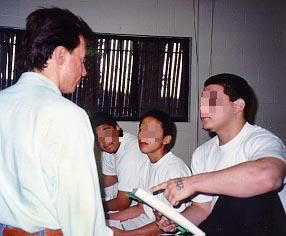 I shared my simple story idea and designed a technique where the boys would improvise scenes as if they were the characters. I recorded audio and video tapes of our sessions, then transcribed the content into a screenplay format. The following week, the kids would take turns reading the scenes out loud. A youth would pass on reciting if he was illiterate, but he was following along and learning how to read and write through this process.
Later, when they heard their improvised words acted out in the context of our script, the boys would shout out proudly, "Hey, I said that last week!" At the end of three months, we had co-written Retaliation, which brought some of these young men to tears at our final read-through. The script was optioned by a producer, but more importantly, these kids wanted to return to high school and even apply to college. A gang leader who initially boycotted my workshop because I had suggested a happy ending actually had gang tattoos removed from his neck and hand.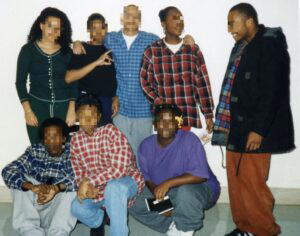 Based on this success, I was driven to teach a second screenwriting workshop. This time it was with a group of coed teens at another juvenile detention facility where we co-wrote Gangsta Love. The impact was just as phenomenal. Teens who were facing major challenges had developed new skills, plus confidence and goals to change their lives. I've shared more about my story in a TEDx Talk.
I shared my experiences with another writer and she called the next week to say that her producing professor Leslie Stevens at the AFI wanted to give me $5,000 to start a nonprofit. I felt compelled to put my entertainment industry career on the back burner, and I founded Create Now in 1996.
Create Now has brought me more joy then I could ever imagine. The reward of seeing how our arts programs have impacted so many young lives is very precious. They're able to heal through the therapeutic power of the arts as they learn new ways to thrive by using creative expression.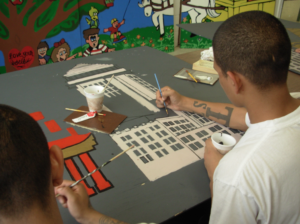 It's been 28 years since the 1992 Los Angeles uprising, and with all the turmoil going on right now, it's easy to get caught up in the same rage, fear and depression, particularly when it seems like the problems we face will never end. I hope you'll turn any negative emotions into positive actions that you can take immediately to turn our current situation into opportunities to come together and rebuild our planet. Channel your energy into creating tools that generate change.
Volunteer to help kids and others in need. Protest peacefully with signs that attract attention and raise awareness. Design flyers, write poems and songs, plus advocate for those less fortunate. Most importantly, VOTE for whatever you believe in!
Please donate to Create Now because every dollar makes a difference to thousands of young lives. Thank you for your support!
With love, light and harmony,
Jill Gurr, Create Now Founder and CEO